Spicy carrot loaf recipe
Carrot cake is one of the easiest, yet most delicious desserts you can make, and though many prefer to fill it with all sorts of dried fruits and nuts, a simple, slightly spicy version of the famous cake can be just as satisfying.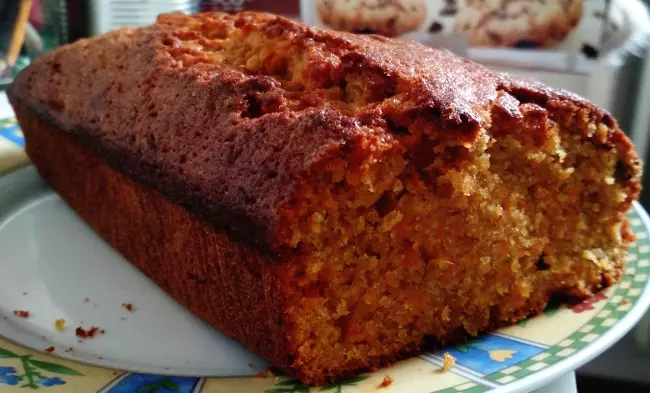 This carrot loaf is one of the easiest to make.
Ingredients
1 cup (120 g) all purpose flour
0,5 teaspoon baking powder
0,5 teaspoon baking soda
1,5 teaspoons cinnamon powder
0,5 teaspoon ginger powder
0,5 teaspoon turmeric
0,5 teaspoon salt
2/3 cup (140 g) sugar
2 teaspoons honey
0,5 cup (99 g) vegetable oil
2 eggs
1,5 cups grated carrots (about 4 medium carrots)
Preparation
1. Peel and shred about 4 medium sized carrots. Preheat the oven to 180 °C (350 °F). Line a 21×11 cm loaf tray with parchment paper. (The paper will stick to the tray more nicely if you first grease it slightly.)
2. Mix the dry ingredients - the flour, baking soda, baking powder, cinnamon, turmeric and ginger -, when done, set aside.
3. Add the sugar, oil and eggs into another bowl, and mix them together, then stir in the flour mixture and mix it well. Finally, fold in the grated carrots and incorporate the honey.
4. Pour the mixture into the loaf tray, and bake it for 50-60 minutes. Use a needle or fork to see if the middle is baked.
5. Let it cool down completely before serving.
Anita Diós
April 2018