Roasted vegetables with chicken
A unique yet simple recipe!

Roasted vegetables with chicken (Photo: Katalin Seres)
Ingredients:
1 bigger aubergine
1 bigger squash
3 middle-sized onions
3 tomatoes
100 dkg chicken breast fillet
30 dkg port salute
Sea salt, pepper, oregano, basil, marjoram
Olive oil
Slice the vegetables, chop the meat into 5x5 pieces, then salt and pepper them slightly. Put the ingredients next to each other in any order so that they would be attractive if you keep the same order.
Our suggestion: squash, meat, onion, tomato, meat, squash, meat, onion.
After the tray has been filled, scatter the top with salt, pepper, green spices, pour it with a little olive oil, and put it into a preheated oven. Roast it without cheese for 40-50 minutes (at 150 oC in the first 20 minutes, then at 180 oC when the vegetables start to juice). Sprinkle it with oil from its own juice every 10 minutes so that the top wouldn't burn or dry out. When all becomes already soft, get rid of the accumulated juice and scatter on the cheese. Take it back into the oven for another 10-15 minutes.

Photo: Katalin Seres
Our tip:
If you like to attract men, you should lay some slices of bacon onto the top under the cheese. It won't seem too healthy, so they could consume it willingly.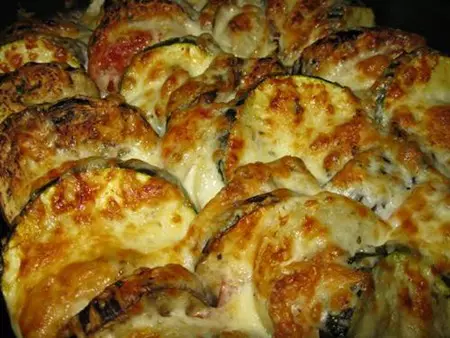 Photo: Katalin Seres
Enjoy your meal!
May 2014