How to design a perfect reading nook?
Finding time to read is not easy, and though a great book provides a huge amount of enjoyment and delight when reading it on a train, a park bench, a cafe or in your bed at home, designing a cozy reading nook and taking time to read there daily is a luxurious pastime no-one who has the possibility should miss! Below are some tips that might help you in creating a sightly reading space.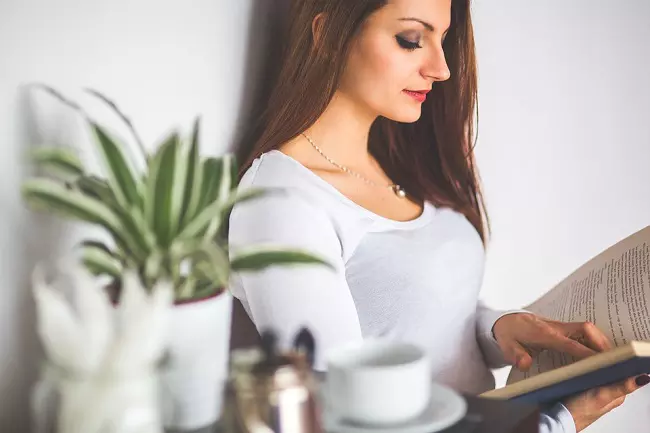 Reading is best when you have a comfortable, well-lit place in your home (Photo: pixabay.com / Karolina Grabowska)
Choose the lights wisely!
During the time you read, you basically see only the letters on the pages, while all the other parts of the environment will only be perceived partly or in glimpses. So we can say that the most important thing is to provide enough, and good quality light for your eyes in order to prevent them for getting tired or sore too soon.
It's obviously best to have wide and clear windows, and not only because windows will make the nook especially spectacular, but also because sufficient amounts of natural light can enter the room through them. Unfortunately, many people don't have the opportunity to create a nook near an expansive window, and as the evening comes, no natural sunlight will get into the house, anyway. This means good quality lamps will be needed.
But there is no such thing as an ultimate "great reading lamp". Both the amount and tone of light that can be considered ideal for reading differs from person to person.
It's quite likely that you, your child and the grandparents will find different amounts of light "comfortable", and that's because as we age, we need more and more light. While a child will be comfortable with reading by 50 watts, an elderly person may need around 100 watts. But not only too small amounts of light can be harmful - too much glare can lead to the fatigue of the eye, especially for elderly and those with eye conditions and problems. So it's best to have a "basic" amount of light coming from lamps placed evenly in the rooms, and complement those with a shaded lamp close to the place where you will read.
The tone of the light is another thing to consider. Too warm or too cold, blueish tones can both be overwhelming after a while, so it's best to choose tones that are closer to white - which is basically "neutral". However, most people only have time to read in the evenings, and according to studies, blue light can lead to sleeping problems when watching it for too long right before sleeping - so warmer, somewhat "reddish" lights will be better for the "nighttime readers".
You can also add some less noticeable lights as decoration - some popular mood lighting items, such as the so-called fairy lights, light garlands, candles, lava lamps and Himalayan salt lamps can make the nook more cozy and unique.
Make it comfortable!
The second most important thing is to make the nook an overall comfortable and convenient place, where you can easily spend hours without your spine and legs getting sore... Thus a good quality sofa, bed or couch is necessary, preferably with medium firmness. Some colorful cushions and blankets can also make you feel more cozy in your reading nook, but try to stick to a specified color scheme, because too many colors in a small place can easily be overwhelming after a while. Other useful pieces of furniture are - of course - shelves, and perhaps a small table for tea or coffee. The latter is important because it can be highly annoying when you just can't find a proper place for your cup of tea, hot chocolate or coffee while reading, and this struggle can deter you from reading for quite an amount of time... You can also add some speakers in different parts of the reading nook, especially if you're living in a noisy neighborhood, because soothing and neutral background music can basically act as a "sound wall", and can help you in concentrating only on your book.
Decoration
Being surrounded by nice artwork has a calming effect and can reduce stress, so if we can have a wall decorated with some chic paintings, drawings, colored mandalas or photos, why shouldn't we seize the opportunity? While a few pictures affect the mood in a positive way, too many of them can be overwhelming, and small spaces can seem "narrower" and smaller because of the large amounts of smaller decorations. So it's best to place only a few of your favorite decorations in a neat order on the walls and shelves - and this is also true when it comes to small sculptures, plushies, candles, etc. A few light garlands, salt lamps and other pieces of mood lighting can also provide a nice decoration when used with moderation. If you have a big window, you can also place some plants near them, succulents are one of the all-time favorites, but almost any kind of plants will do.
Creating a kid's reading nook
The first thing to consider when creating a kid's reading nook is obviously safety. Among many other factors, the safety of the shelves is crucial, even if you always keep an eye on the child. It's best to choose from furniture designed especially for children, and use them in a way that is recommended by the manual. Apart from this, you can use your creativity, and try to make the nook spacious, colorful and comfortable. Themed nooks can be really eye-catching, and they are quite useful if your child has one or a few definite interests - such as vehicles, animals, horses, princess-related things, medieval times, etc. This way you can enrich the nook with toys and pictures that are all related to that one theme, and create a friendly and fun environment in which the child will feel comfortable.
Anita Diós
June 2018