Homemade jerk chicken
advertisement
If you're a fan of this spicy, hot and smoky Jamaican treat, you will probably like this recipe that you can prepare at home. While the jerk chicken is a typical summer barbecue food, the Caribbean-inspired flavors can bring a little "sunshine" into your days in wintertime, so you will always find a great excuse to prepare this popular main dish.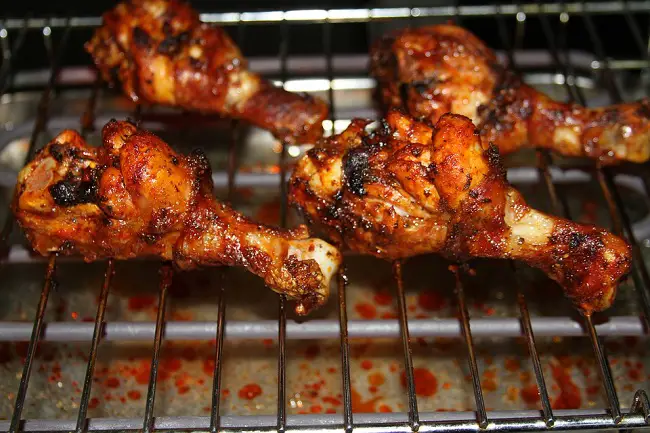 You can easily prepare this spicy chicken at home (Photo: pixabay.com / Mouhcine Bahassa)
advertisement
What you'll need to prepare the jerk chicken:
Eight chicken legs (both the drumsticks and thighs)
2 garlic cloves
1 jalapeno (chopped)
400 grams of green onions (sliced)
2 tablespoons of extra-virgin olive oil
The juice of a lime
advertisement
1 tablespoon of light brown sugar
1,5 teaspoons of ground allspice
Salt, to taste
0,5 teaspoon of dried thyme
0,5 teaspoon of ground cinnamon
2 tablespoons of water
Vegetable oil (for grilling)
advertisement
Preparation:
Mix the jalapeno, the lime juice, the garlic, the green onions, the brown sugar, the salt and the spices together with some oil and the water in a blender, and prepare a smooth marinade. Set aside quarter of a cup of it.
Put the chicken thighs and drumsticks into a bowl and add some salt onto them, then coat the chicken with the remaining marinade. Put it into the fridge for a few hours, or leave it there overnight.
After the chickens remained at least 2 hours in the fridge, preheat the grill to medium-high heat and oil the grates.
Grill the chicken for about ten minutes, turning it a few times. Then move the meat to a cooler part of the grill, brush with the marinade you put aside previously, and grill it - now covered - until it's properly cooked. It will probably take another 10 or 15 minutes.
Anita Diós
September 2018