Creative fun with empty mason jars
Empty mason jars are usually stored in the basement or on the attic, because even when we can't find a use for them, simply throwing them away might make us feel bad. But with some spare time, a few tools and creativity, you can actually turn those old jars into something decorative or useful.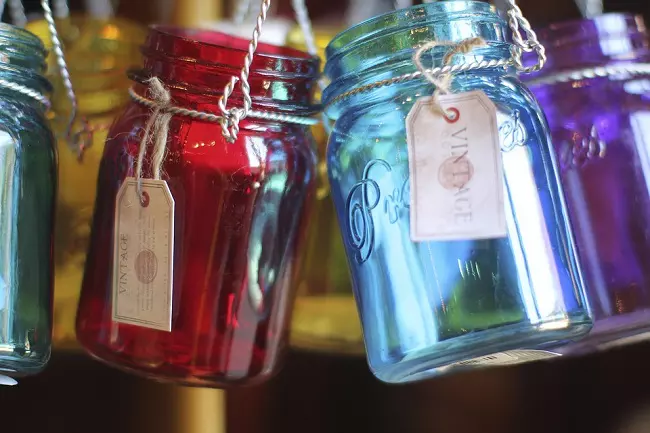 Mason jars are one of the favorite subjects of creative craft-makers... (Photo: pixabay.com / Jody Summers)
1. "Wondrous" glowing jar
This is one of the easiest crafts you can do with your empty jars. Whether it's a new piece of "mood light" you want, or just a great project to do with your kids, the glowing jars might be ideal for you. You'll need glow-in-dark acrylic paint (whichever color you like, or perhaps even more than just one color), a round brush and a clean jar. Obviously, you will have to paint small dots onto the jar's surface, and once you're ready, don't forget to wash the brush - acrylic paint, once dried, won't come out otherwise. Soon as the paint on the jars has dried, put the jar to a place where considerable amounts of light will touch it. After a few hours, it shall emit a soft light. The paint needs to be "refilled" with light each day in order to glow.
2. Memories in a jar
For this mason jar craft, you'll only need three items: a mason jar (with a lid), vegetable oil and a photograph you like. (Be sure to only use photos you won't need later: it's a good idea to use one that has another good quality copy.) First, place the photo into the mason jar anyhow you think it looks great, then pour the oil into the jar until it covers the whole photo. Close the jar with the lid, and you're ready. You can also add some ribbons or fabrics to the composition. Be sure to place the jar to a safe place - oil can be flammable, thus dangerous even if you place only a few small candles too close to it.
3. Animal mason jars
This is another fun and easy craft you can make at home, and all you'll need is acrylic paint and a brush (if you choose acrylic spray, it will make your job even easier), a small plastic animal figure, a clean, empty mason jar (with lid) and strong glue. First, take the lid off and paint it with the acrylic paint, then let it dry. Paint the animal figure too, and let it dry. Once the paint is dried, you can glue the animal figure onto the lid, then wait until the glue is also dry. Then you can fill the mason jar with whatever you'd like to store in it - candies, cookies, crayons, beads, small toys or smaller school supplies may also be a good idea.
4. Mini terrarium / fairy garden
Plants can make our living spaces more lively and friendly, and if you put some into an empty mason jar, they can provide a lovely sight too. One of the most important rules here is to place some gravel, perhaps even a few pebbles into the jar before you start doing anything with it. The gravel at the bottom will prevent the water from getting stuck in the soil, thus protect your plants' roots from the excess moisture. Then place some soil onto the gravel layer - the type of soil and the thickness of this layer depends on the plant you choose -, and finally add your plants, and if you'd like to, you can also decorate your floral composition with small figures or additional pebbles, branches and "fairy garden items". Make sure to place the little mason jar terrarium to a place where it will get sufficient amounts of natural light, but also protect it from overheating.
5. Colorful vase
A colorful vase with a few nice, cut flowers and green leaves provides a cheerful and lively piece of decoration in any home. Good news is making one at home is not a tough task at all, and no more than two items are needed - one of which is the empty, clean mason jar. The other is the acrylic spray paint. You will only have to paint the outer part of the jar, and can even have some cool effects if you temporarily glue some lace or a template cut out of paper onto jar before starting the painting method, then remove it once the paint is dry. Acrylic paint should be waterproof, but too much water may damage it to some extent. Also, huge amounts of direct sunlight can cause the colors to become paler.
Anita Diós
August 2018