5 unique gardens from around the world
There are not many things that can be more beautiful than a neatly tended garden, and thankfully, creative and devoted people all around the world do create and maintain incredibly spectacular gardens that can amaze people at several different places on Earth. While naming the most beautiful gardens of the world is really something that is impossible to do, here we show you five incredible gardens that will blow your mind.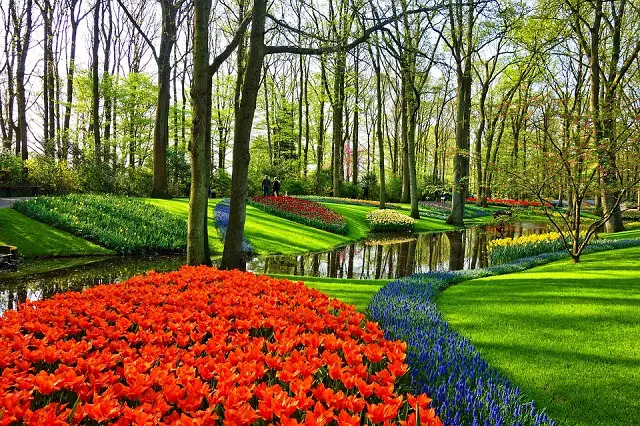 These tulips make the Keukenhof a world sensation (Photo: pixabay.com / MabelAmber)
Keukenhof, Lisse, Netherlands
Being the largest flower garden of the world, the Keukenhof is indeed one of the most famed gardens. It's no surprise that the magnificent colours and fragrance of the 7 million flowering plants that can be found on the 32 acres size garden steals the hearts of many people - but to see the wonders this place offers, you must visit it from late March to the end of May, as otherwise you won't find it open. A boat ride can make the journey of the plant-loving tourists even more wonderful, as they can swiftly glide through the tulips and other eye-catching plants. And if even this is not enough, there are also several sculptures and fountains on the area.
Nong Nooch Tropical Botanical Garden, Pattaya City, Thailand
The Nong Nooch Tropical Botanical Garden is a real treasure chest for plant lovers, who can see some 670 species that are native to Thailand at one incredibly colourful and spectacular place. The garden itself is about 500 acres, and it has a 1,1 kilometres long walkway which is placed among the fantastically diverse tropical plants, such as orchids, palms and cactuses. You can also find a museum and a pretty pond nearby.
Royal Botanic Gardens, Kew, London, United Kingdom
The Royal Botanic Gardens in London is really a lovely place for all of those who'd like to enjoy the diversity and magnificence of plants, as there are more than 50.000 species of altogether presented on the 3,6 hectares of land. While this is pretty impressive by itself, you can also see some wonderful greenhouses and a spectacular treetop walkway.
Claude Monet's Garden, Giverny, France
The world-famous Claude Monet's Garden has two parts, one of which is the iconic water garden, with the flower garden being the other. Monet's name is not there without a reason - the great French painter one one of the designers of the garden, and you can even see some water lilies right there that can remind you of his famous works of art.
Gardens of Versailles, France
The Gardens of Versailles if one of France's most iconic, and of course most eye-catching gardens which gives place to some 200.000 trees and a similar number of flowering plants. You can also see 600 fountains and almost 400 statues, all of which are part of a precisely planned and monumental composition. Not only the plants are neatly trimmed, but even the fountains and - mostly mythological themes - statues do represent diligence and excellence.
April 2019